Ahead of the release of new LP "Hollow" on February 14th and a European tour in support–which will include a show at London's Moth Club on release day–Montreal's Elephant Stone are today sharing the latest single to be lifted from the record, "We Cry For Harmonia." A piece of sprawling, jangly psychedelic pop set to equally mesmerising animated visuals, you can check out "We Cry For Harmonia" and its accompanying video here:
A post-apocalyptic yet uncomfortably-apt concept album, the story told through Elephant Stone's garage-psych alchemy on 'Hollow'–released via London-based label Fuzz Club Records, following their 2016 LP 'Ship Of Fools'–takes place immediately after mankind's catastrophic destruction of the Earth and follows what happens when the same elite responsible for the first world-destroying climate disaster touch down on New Earth, a recently-discover planet sold with the same life of prosperity as the one they'd just destroyed. As soon as the chosen few step off the 'Harmonia' ship built for the journey, it's clear that all is not what it seems and humanity appears destined to make the same mistakes.
Rishi says the album's storyline: "touches upon the plundering/poisoning of their home, the elite, demagogues, false idols, the truth as seen by children, and, ultimately, the fight for the survival of their species."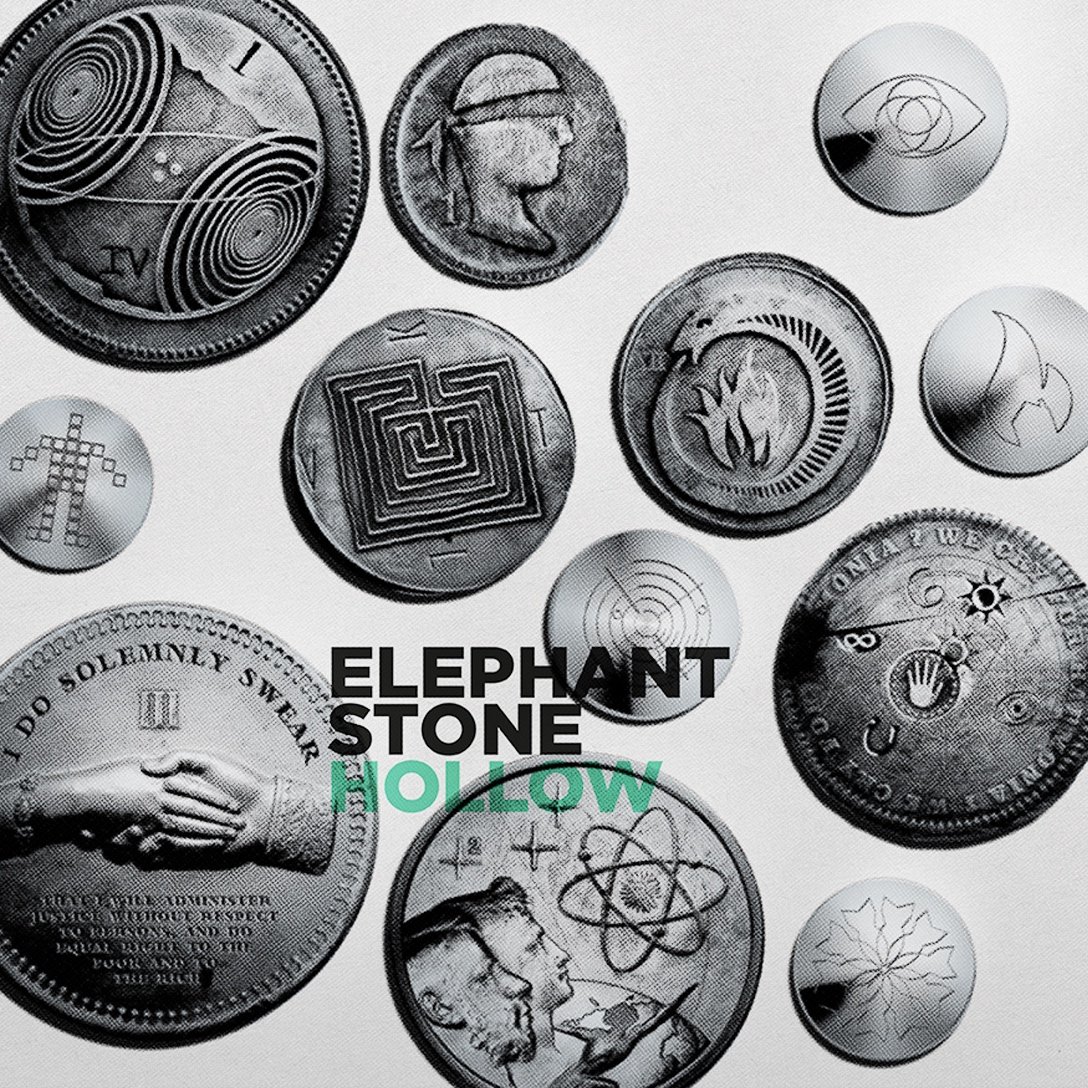 Each song on the record following the above story-line, 'We Cry For Harmonia' picks up after a court and jury decides who is allowed to board the Harmonia ship to life on New Earth, only to find that there is no life and the skies are just as polluted as the planet they'd left behind. Preceding single "Keep The Light Alive" saw helpless children and clueless adults in search of love and reassurance as to what to do next and 'We Cry For Harmonia', out today, sees them come close to an answer. 'The adults that arrived on the Harmonia ship have no life skills. On old Earth, they lived a life of privilege, never having to fend for themselves. In their desperation, they turn to Harmonia as a false idol, asking for guidance on how to survive in this harsh, inhospitable planet. A theocracy is born. They tell themselves it's all just a dream."
Debuting a decade ago, the psych-pop creation of Rishi Dhir along with long-time collaborators Miles Dupire (drums) and Robbie MacArthur (guitar), and touring member Jason Kent (keys/guitar), have released five critically-acclaimed albums, toured extensively throughout North America and Europe, been nominated for the prestigious Polaris Music Prize and picked up praise from the likes of NPR, Brooklyn Vegan, Consequence of Sound, Rolling Stone, Clash Magazine and more. As a highly-regarded sitar player, Dhir has also collaborated with indie-rock icons (Beck) and legendary cult bands (The Brian Jonestown Massacre).
Hollow' is due for release February 14th 2020 via Fuzz Club : https://fuzzclub.shop/collections/new-fuzz-club-releases/products/elephant-stone-hollow?variant=31049193717811
UK/EUROPE TOUR-DATES
Jan 29 – Nijmegen, NL @ Merleyn
Jan 30 – Amsterdam, NL @ Paradiso
Jan 31 – Leipzig, DE @ UT Connewitz
Feb 01 – Berlin, DE @ Urban Spree
Feb 02 – TBC DE @ TBC
Feb 03 – Basel, CH @ Kaserne
Feb 05 – Bordeaux, FR @ L'Astrodome
Feb 06 – Zaragoza, ES @ Las Armas
Feb 07 – Madrid, ES @ Wurlitzer Ballroom
Feb 08 – Barcelona, ES @ Sala Upload/Barcelona Psychfest
Feb 10 – Leuven, BE @ Het Depot
Feb 11 – Nottingham, UK @ The Chameleon
Feb 12 – Glasgow, UK @ Nice & Sleazy
Feb 13 – Manchester, UK @ The Castle Hotel
Feb 14th – London, UK @ Moth Club
Feb 15th – Paris, FR @ Espace B
US TOUR-DATES
Nov 05 – San Diego, CA @ The Casbah
Nov 06 – Phoenix, AZ @ Yucca Tap Room
Nov 08 – Austin, TX @ Barracuda/Levitation
Nov 09 – Dallas, TX @ The Foundry (Free Show)
Nov 11 – Santa Fe, NM @ Rufina Tap Room (Free Show)
Nov 12 – Denver, CO @ Hi-Dive
Nov 13 – Fort Collins, CO @ Surfside 7
Nov 15 – Portland, OR @ Doug Fir
Nov 16 – Seattle, WA @ Freakout Festival
Nov 17 – Vancouver, BC @ Wise Hall
Nov 19 – San Francisco, CA @ The Chapel
Nov 20 – Los Angeles, CA @ Lodge Room
Elephant Stone |Official Website|Bandcamp|Facebook Page|Twitter|Soundcloud|Spotify|YouTube Channel|
Fuzz Club Records |Official Website|Bandcamp|Facebook Page|Twitter|Soundcloud|Spotify|YouTube Channel|